3 easy steps

Select the appropriate form


Take appropriate form and vehicle for a VIN inspection to your local OHV dealership or law enforcement office


Complete application and MAIL IN your supporting documentation to DMV
1. Select the appropriate form
Registration forms and procedures differ depending on when and where your vehicle was purchased or whether it is homemade. Click on the appropriate link. Please read the application and forms carefully. A separate form is needed for each vehicle.
How did you acquire your off-highway vehicle?
2. Take appropriate form and vehicle for a VIN inspection
A Vehicle Identification Number (VIN) inspection will have to be completed by a licensed Nevada Off-Highway Vehicle dealer or a sworn law enforcement officer. Note: the DMV does not perform VIN inspections and all registration is by mail. If your vehicle has never been registered or titled in Nevada Click here to see a list of licensed dealers.
Please note:

Call your local dealer to verify they are conducting VIN Inspections.

If your vehicle does not currently have a VIN Number, a VIN Assignment Form will need to be completed. Call the DMV to obtain this form, but remember the DMV does not perform VIN inspections for Off-Highway Vehicles, .
Please call DMV during normal business hours: (775) 684-4381
3. Pay fees, complete application, and MAIL IN supporting documentation to the DMV.
The dealer who completes the inspection may submit the application and other documents on your behalf or you may mail them yourself. Dealers may charge up to $2 for each registration and/or title application submitted.
Fees
You may pay by check or money order made payable to DMV. You may also pay by credit or debit card using the payment card slip attached to the forms.
Registration (annual renewal required)
$21.00
Title for Nevada-based vehicles
$29.25
Title if the vehicle is not registered or present in Nevada
$44.25
VIN Assignment (if needed)
$2.00
Dealer fee per registration or title application submitted
(paid to dealer separately)
$2.00
Duplicate Decal Fee
$6.00
Duplicate Title Fee
$21.00
Mailing Address:
Nevada Department of Motor Vehicles
OHV Unit
555 Wright Way
Carson City, NV 89711
The Nevada Certificate of Title, if issued, is processed separately from the registration decal. All ownership documents will be required to title the Off-Highway Vehicle. The title will be mailed to the lender or other lienholder, if any, or to the owner if there is no lienholder.
Please note:

When you receive your registration decal, affix the decal to the Off-Highway Vehicle. Decals are issued by mail only. Once your off-highway vehicle is registered for the first time, renewals can be done online or by mail.
---
Online Services
Annual Registration Renewal can be completed online by visiting this page
In case of loss of OHV Registration decal, a duplicate decal carries a fee of $6.00, and can be requested by clicking here
---
Background
Nevada's program to register and title off-highway vehicles went into effect July 1, 2012. Nearly all off-highway vehicles greater than 70cc, and 1976 or newer, must be registered and display a registration decal to operate legally in Nevada. The cost for an annual registration is $21. Applications are accepted and decals are issued by mail only. Additionally, OHV dealers must be specifically licensed to sell off-highway vehicles.
Why Register?
Funding for the Commission's off-highway vehicle grant program relies on revenues generated by the Off-Highway Vehicle Registration Program. Your registration fees benefit the Off-Highway Vehicle community and Nevada as a whole in many ways:
Improve trails and facilities
Protect the land through education and enforcement
Protect your vehicles against theft
Keep Nevada dollars in Nevada
Encourage tourism
Registration is now the law in all western states
Funding for the Commission's off-highway vehicle grant program relies on revenues generated by the registration of off-highway vehicles in Nevada
Questions about registering your Off-Highway Vehicle?
Please call during normal business hours:

(775) 684-4381 in Carson City/Reno/Sparks
(702) 486-4368 option 8 in the Las Vegas area
(877) 368-7828 option 8 in rural Nevada

Large All-Terrain Vehicle Registration
Large All-Terrain Vehicle Registration (Form OHV-031, Large ATV Insurance Declaration must also be completed and submitted) "Large all-terrain vehicle" means any all-terrain vehicle that includes seating capacity for at least two people abreast and: 1. Total seating capacity for at least four people; or 2. A truck bed. Large OHV Registration requires insurance that meets requirements of NRS 485.185. Please note: each municipality determines which streets are legal for OHV's.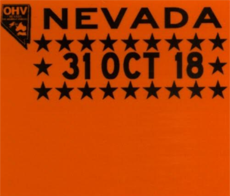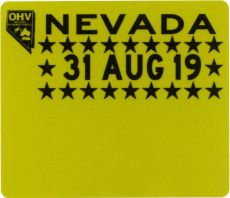 All OHV Forms
The Department of Motor Vehicles processes registrations, titles and dealer licensing applications only. Questions on riding, trails, enforcement or other issues should be directed to the appropriate agencies in your local area or the Commission on Off-Highway Vehicles.